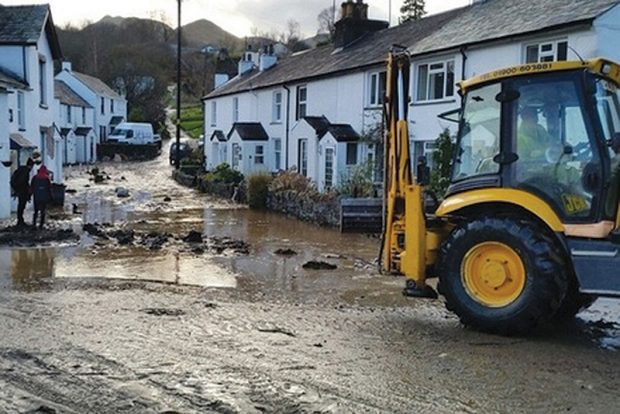 The register of internal drainage boards, managed by the Department for Environment, Food and Rural Affairs (Defra), has gone into alpha.
Without internal drainage boards almost 1 million homes and businesses would be under constant threat of flooding. There also wouldn't be any reassurance that new houses were being built on solid ground, and the production of food in the UK would be under jeopardy due to insufficient land to grow crops on.
Internal drainage boards are public bodies responsible for managing water levels in areas of special drainage need. For example, an internal drainage board will find a way to reduce the risk of flooding to an area without harming the environment.
How the register will help
Although internal drainage boards aren't the most high profile of government services, their public task is still crucial. The need for authoritative lists of schools in England or prisons may be more immediately obvious, but there is just as much need for hidden infrastructure like internal drainage boards and the recently released alpha register of notifiable animal diseases.
Government needs this data to help make sure the things that we take for granted actually happen.
Internal drainage boards have a broad remit, but as their name suggests, their primary task is to manage water levels.
As a result, they are often called upon to advise on planning applications and to ensure that existing and new developments have sustainable drainage systems that don't harm the environment. So as well as providing an accurate and up-to-date list for times of emergency, local authorities' planning services and housing developers will also be able to make use of the register.
An open, reliable data set of internal drainage boards will help to ensure that thousands of houses built under the government's housing strategy are literally built on solid foundations.
The data in this register will also serve approximately 50,000 farmers and owners of prime agricultural land situated in internal drainage board districts across the UK. Internal drainage boards play an important role in managing the water levels of farmland. Without them, unmanaged water levels could lead to food shortages due to land that is not suitable for growing crops or rearing animals for food.
So, when you dig beneath the surface - no pun intended - you start to realise that things you've never heard of or rarely think about are often essential to the way we expect society to operate. This isn't dissimilar to registers themselves: working behind the scenes to lay the foundation of the government's data infrastructure.
Tell us your thoughts
Would you use the register of internal drainage boards? We'd love to hear your feedback and welcome any comments on the register. Comment on the register.
The register of internal drainage boards is on track to go into beta by the end of March. Once it's in beta, product and service teams across government will be able to use it as the single-most accurate and up-to-date source of information in this domain. But before they, can do that, the register's custodian will work with the GDS registers team to respond to all feedback received and, where appropriate, incorporate any necessary changes into the register so that it helps meet the needs of its users as far as it's possible to do so.
So, we really do want you to get in touch with any feedback on the accuracy, clarity and structure of the information contained in the register or any thoughts you have on the registers platform as a whole.
You can also provide feedback on another recently released alpha: the register of notifiable animal diseases and see which other registers we're working on.