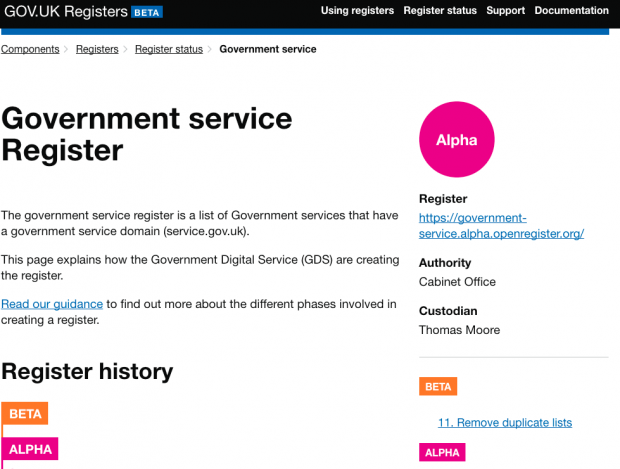 The government service domain register lists government services that are a subdomain of service.gov.uk. The GOV.UK team and the GDS registers team have worked together to create a register of these government services, and this register is now in alpha.
What is a government service domain?
Across Government there are lots of teams who run citizen-facing digital services. Many of these services use a government service domain so they can sit under the central GOV.UK umbrella but with a distinct URL. For example the service to apply for a fishing licence has this domain: get-fishing-licence.service.gov.uk. GDS controls the creation of these domains, and the service teams need to fulfil certain criteria before control of the domain will be handed over to them.
To gain control of the service domain a service team needs to pass a beta service assessment. To pass this assessment the service must demonstrate that it fully meets the 18 points of the Digital Service Standard, can handle real transactions and work at scale. GDS and assessment teams within departments assess services against the Digital Service Standard.
How was the register created?
The first step in putting together the register was to work out what records we have in terms of listing service domains we've delegated. These are:
DNS record list
Service domain tracker
Service domain name list
The DNS record list is the most complete list we have as it's taken directly from the DNS records, however it contained some things that needed investigation. Rather than use the DNS record list alone, the list was cross-referenced with the service domain tracker (a manually maintained list of delegated service domains) and the service domain name list (a record of service name discussions between GDS and service teams).
The most difficult part of putting together the register was determining what to include and what to leave out. It was decided that the service domain should represent a list of actual, available services, which meant removing domains which were:
for internal use (for example, configuration)
issued on a temporary basis (for example, for services in private beta for testing)
retired
reserved for use in the future
It's important to note that each entry doesn't necessarily represent a single discrete service that helps users to achieve a specific goal. Some, such as "apply-budgeting-loan" are. Others are more wide-ranging, such as "tax" which covers a number of individual user tasks. The domain also includes tools that support people to use services, such as "dvla-web-chat", or common components of services such as "payments", "signin", "notifications".
What happens next?
The government service register is now in alpha which is the point when we want your feedback. As the register custodian, I'm really interested to see how you'll use the register, and your thoughts on the dataset. Get in touch and let us know what you think.