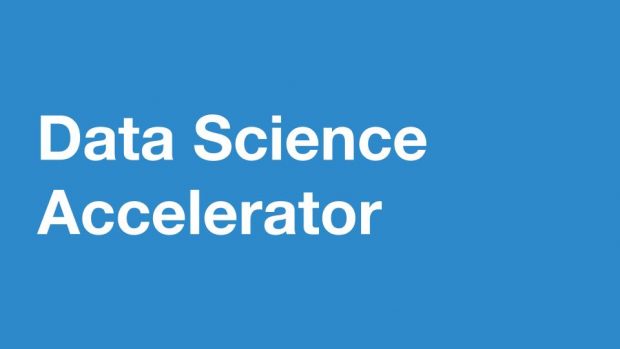 The Data Science Accelerator is a capability-building programme which gives analysts from across the public sector the opportunity to develop their data science skills.
We are now open for applications for the next cohort of the Accelerator.
The next cohort starts on 29 June 2017, and participants can choose from five city hubs – Bristol, London, Newcastle, Newport and Sheffield.​ The application process consists of a project proposal, plus some information about your current skill level and what you hope to gain from taking part in the Accelerator.
What happens on the programme?
Participants work on a data science project, proposed by them, over the course of three months.
Protected time is a key benefit of the programme, so you need to commit to spending one day a week working alongside your peers and supported by a dedicated mentor.
You'll experiment with different techniques, whilst working on a real problem that's useful to your organisation.
How do we choose participants?
Your line manager and a more senior manager (usually a head of profession or equivalent) must agree that your project tackles a business problem with data that you can access, and that you can join one of the city hubs 1 day per week for 3 months. Coding experience is good but not essential.
How do I apply?
Please ​download the Accelerator application form, ​and email ​your completed proposal to the Data Science Accelerator team by 30 May 2017. The programme will start on 29 June 2017.
We will be holding drop-in sessions to provide advice on the application process and how to approach a data science project.