Competition
From today (1 October) we are launching an energy efficiency competition for the 18 government department headquarter buildings. The competition will run from 1 October and last for one month. The winner of the competition will be the department which uses the least energy in the month relative to the previous month. From Monday October 4th we will publish a live league table here on data.gov.uk which shows the relative performance of all headquarter buildings so that the public can track progress. Special recognition will also be given to departments demonstrating the most innovative ways of saving energy and also for measures which contribute the largest single contribution to energy savings. More details about the competition can be found at http://data.gov.uk/energy-consumption-competition and the league table can be found here.
Departments have now reported two full months of data and it is possible to see the relative energy consumption for each headquarter building. The first graphic (below) shows that in August, the MoD Main Building was the largest absolute consumer of energy out the 18 headquarters; using 2,565,331 KWh. Number 10 was the lowest, using 78,670 KWh. In simple terms one of the main reasons for this difference is the fact that the MoD headquarter is the largest building in this group, and Number 10 is the smallest; more detailed analysis is required to determine whether buildings are performing well; we will expand on this analysis over the next few months.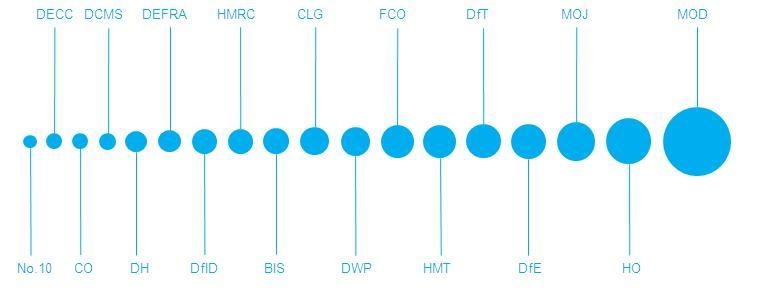 Rewired State http://www.rewiredstate.org/ has developed an application which brings together all 18 departments' energy consumption – see http://www.govspark.org.uk/ This concept was developed by Isabell Long (aged 16) as part of a Young Rewired State hack day and has been developed into an application which compares day-time and night-time energy consumption and also shows the relative energy consumption of government departments on a map of Whitehall. The league table will initially be manually prepared, and we are working closely with Govspark, who have developed a fully automated application which links directly to departments' real time reporting systems. The systems are relatively new and, as such we will be performing quality assurance on the league table throughout the next few weeks.