Today we've enhanced our Site Usage pages, introducing graphs and data download measurement. This highlights the datasets that are attracting most interest in each month and shows how the site is doing in terms of overall metrics, such as total viewings and the average time a user views the site for. We are often asked for data on usage of data.gov.uk and we feel this is the best way to release it openly to all parties.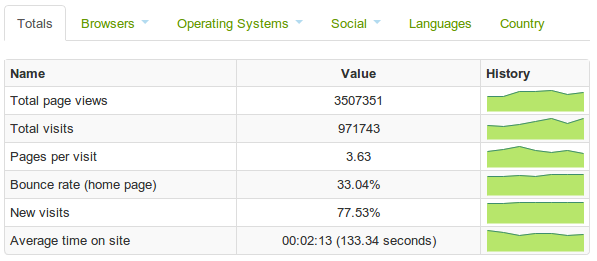 There is interest in how well the site as a whole is performing. 'Bounce rate' for the home page (visitors who come to data.gov.uk and then leave straight away) is acceptable at 30% (compared to similar sites), and far better than the high numbers seen with the home page before the relaunch last June. The little 'sparkline' graphs for each metric will help evaluate changes over time.
There is also plenty of scope to examine the changing user interest between the different publishers as they release more data and interest in particular datasets get boosted, for example by a current news story. Data from the Office for National Statistics gets the most interest, and that makes sense as they have a large number of data listed. But what was their massive spike in interest in October and November?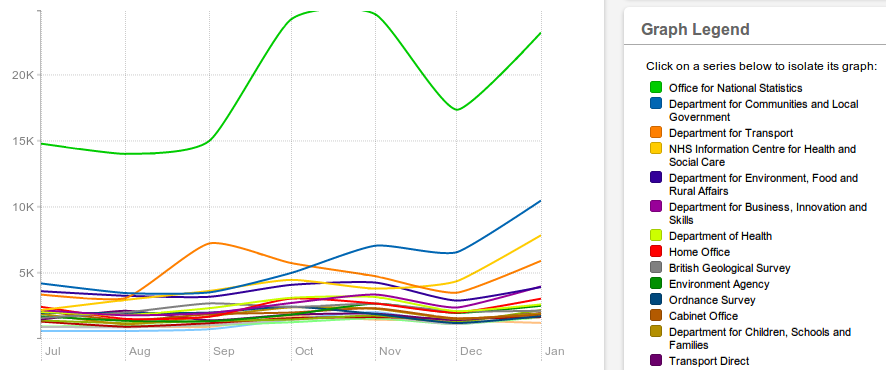 Clicking through to ONS's breakdown shows the interest was in A Generational Accounts Approach to Long Term Public Finance in the UK, which was probably in the news then. However clicking through to the data provides only the PDF report, and broken links for the spreadsheets behind it. So out of 9000 odd datasets, we can see a clear priority to fix this link!
The Site Usage also shows properties of users, such as their country, operating system and browser, that help us design for the right audience. The high number of developers using the site is clear from the use of Linux at 13% compared to averages at 1 to 2% elsewhere. I've annotated the graph above to show how quickly our users upgrade their Chrome browsers - only about 2 months are needed for the vast majority to upgrade.
Chrome and Firefox appear in stark contrast to slow upgrading of Internet Explorer. This is due to the use by large institutionals, particularly Government departments, who use old versions for a number of reasons. IE overall accounts for 39%, which is above the average of around 30%. We decided not to support IE version 6 (12 years old this August) on data.gov.uk, and we see usage has dropped under 1% now (click on it in the legend to isolate it). But IE 7 (6 years old) remains for about 5% of our users, so it seems sensible to continue to have to support it, even though it creates the majority of headaches for us developers...
Alongside the graphs and tables are links to download the raw data in CSV format, which contains more detail. As for much of the data listed on data.gov.uk, this provides plenty of scope for anyone to hack around with it to find meaning. If you do come up with something of interest, please let us know in the comments below.