Introducing the new OpenDataCommunities Geography Selector
We have been busy here at DCLG progressively releasing more fully open, accessible data via OpenDataCommunities.
In recent months, we have published:
As part of this, we've been thinking about ways to help users access, join-up and re-use our data more quickly, and easily. The first result is a new Geography Selector tool, available at http://opendatacommunities.org/geo.
What is Geoselector?
In a nutshell, Geoselector is a tool for you to quickly pick, mix and extract data from any OpenDataCommunities dataset, for your preferred geographic areas.
Geoselector opens with a map of England. From here, you can start to explore the geographies for which we hold data by:
Using the hierarchy navigation links (the "Show districts" link in the screen shot above);
Searching via the text box in the top right-hand corner; or
Clicking on the map.
Using Hampshire as an example, clicking on the map will present a dialog box with options to (a) download the Office for National Statistics (GSS) codes and names for the area, or its constituent local authority districts; or (b) get data about those areas via OpenDataCommunities' Stats Selector tool.
If you want information about a particular district, click on the "show districts" navigation link, then pick the area of interest from the map.  You can extend your selection of areas by simply click on the map, then choosing select – the example below, shows a selection comprising Hampshire, Portsmouth, Southampton, West Berkshire and Wokingham.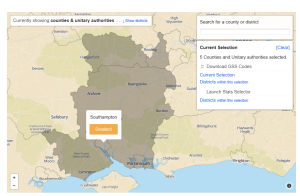 Extracting statistics for your selected geographies
Once you've chosen your geographic areas, you can use OpenDataCommunities' Stats Selector tool to pick and mix data from any related dataset. To begin, simply click the "Districts within this selection", shown in the above screen shot beneath "Launch Stats Selector". In the example below, I've selected data about Domestic Energy Performance Certificates, and Housing Completions. I could add more data by clicking the "Add Data" button.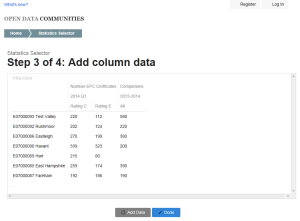 We welcome feedback on how we can further improve data accessibility and re-usability. If you have any comments or ideas for additional datasets and features, please do drop us a line at odc@communities.gsi.gov.uk or @ODCommunities.