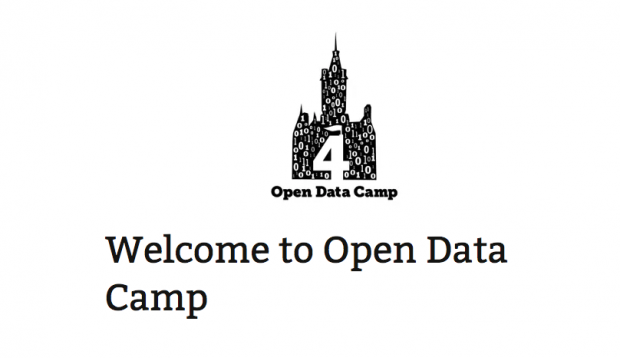 This weekend, 25-26 February, the open data community will come together in Cardiff for the fourth Open Data Camp. I'm delighted that this community-led and organised event continues to be at the epicentre of open data debate, discussion and innovation - and that the Government Digital Service is one of the event's sponsors.
One of Open Data Camp's strengths has been a nomadic format that has seen events held across the country, including Winchester, Manchester, and Bristol. This year's visit to Wales continues a commitment to bring together people with an interest in open data from across the UK.
Those attending represent a diverse set of sectors, including companies large and small, local and central government, charities and academia. Having witnessed at first hand the energy and creativity of previous events, I've no doubt that some great new thinking will emerge and new connections forged - and those of us working on open data policy within government will be eager to hear ideas for what more we can do to advance open data in the UK.
Our data commitments
As the Minister for the Cabinet Office, Ben Gummer, made clear in his speech at Reform on 10 February, we remain very proud of the UK's global leadership on open data, and committed to make yet more data available. For example, earlier this month, the Housing White Paper, set out our ambition for Her Majesty's Land Registry to become the world's leading Land Registry for speed, simplicity and an open approach to data. The data transformation programme run by the Department for Environment, Food and Rural Affairs has greatly expanded the data available on our environment, with 13,000 datasets now on data.gov.uk - a huge achievement, and one which demonstrates the energy government departments continue to put into maximising the potential of the data we hold.
We are also working to deliver a number of ambitious data commitments from our third Open Government National Action Plan, published in May 2016. These include commitments to strengthen our data infrastructure through the development of open registers; to enhance the open data available around government grant-making and elections; and to ensure our work is informed by active and wide-ranging collaboration with current and potential data users.
So to that end - and because the lively debate and great sense of community always make for a fun weekend - members of the GDS team are looking forward to participating in the discussions and bringing back some fresh ideas. I wish all of you a productive and enjoyable weekend in Cardiff.
If you want to find out more about the event visit Open Data Camp.