Addresses are a critical part of our national data infrastructure, but address terminology can be really confusing. We thought it would be useful to explain how we talk about addresses in the same way as we described how we talk about registers.
What's an address anyway?
It seems a simple question, until you consider the many variations of addresses. We know that how a user describes an address will depend on what they're doing with that information. For example, the way they write an address on an envelope might be different to how they describe it if they're giving someone directions.
Our working definition of an address at the moment is "a physical location that must be identified for regulation purposes including council tax and business rates, such as a house or office building."
We're deliberately keeping this definition flexible to reflect differing user needs. For example, if someone is trying to find a list of schools in one area, we can define addresses in this context as "a physical location within a school catchment area".
Creating addresses
When an address is created, it needs to be 'recorded' so that it's recognised as a regulated location. We specifically use the term 'recorded' rather than 'created' as the address is added as a 'record' in a database.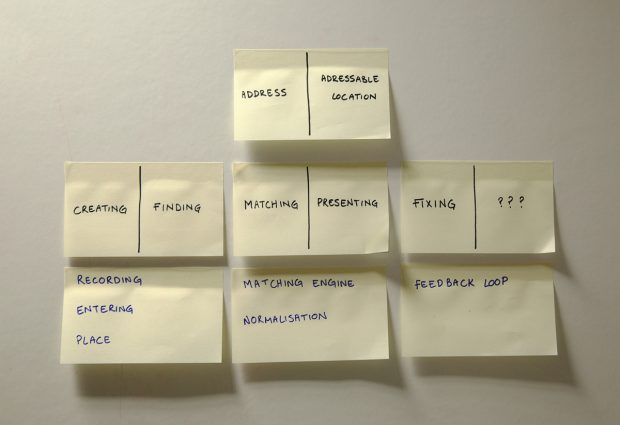 Finding addresses
In the context of addresses in digital services, we often talk about the need for a user to 'enter' an address. This is often when a user can type an address into a search service and select the right address from a suggested list.  
Sometimes a user needs to find an address to get information related to that area, for example, find their closest school, hospital, or the council tax band for that area. We call that activity 'finding a place' and use the term 'place' to indicate a wider geographic area than an individual property or business.
Matching addresses
Users write addresses in lots of different ways. For example, they may include the name of a house such as 'Rose Cottage' rather than its number, '72 Clover Lane'. Or they may make a typo or abbreviate a word like 'road' to 'rd'.
A database will not contain all of the possible variations of an address. Instead, a 'matching engine' on top of a database of addresses can 'match' a user's input to an address in the that database.
We use the term 'normalisation' to describe the process of turning the text typed by a user into a format that is compatible with the database and can be used to match against it. For example, searching for '72 Clover Lne' with a typo will be 'normalised' to recognise that the user means 72 Clover Lane and display the appropriate results.
Fixing addresses
If a user is matched with an incorrect address, or finds a problem with a listed address, they should be able to tell someone so it can be fixed or improved.
The process of telling someone there's a problem with an address and getting it fixed is known as a 'feedback loop'. With millions of UK addresses, there are often errors that need fixing so feedback loops are extremely important.
Presenting addresses
An important thing about addresses is that different services request different formats of addresses. Some suppliers might just need enough information to deliver post. However, other suppliers might need more information about an address such as its latitude and longitude, political constituency, local authority or additional information linked to an addressable location.  
We use the term 'presenting an address' to describe the process for taking information from a database and turning it into a variety of usable formats.
Addressable locations
We describe any physical location where a person, organisation or the like is located or may be reached as an 'addressable location'. One whole address can be made up of lots of addressable locations.
One addressable location could be the first floor of an apartment block. Another addressable location could be the name of the apartment block itself.
Testing this language
We're starting to test this language even more with our users to make sure we're using terminology that everyone understands. This list is by no means complete and we have lots more detailed terminology that we haven't explained here.
We've also shared our choice of language and definitions with a community of government organisations that use addresses so we can start a conversation about address terminology. If you're working in government and would like to get involved in the community, send us an email.
---
You can follow Jen on Twitter, sign up now for email updates from this blog, or subscribe to the feed.